Wiggins Center Fitness ROOMS
The Barrett Fitness Room
This room is dedicated to strength training equipment and free weights. Equipment includes a Pec Deck, Lateral Raise Machine, Olympic Incline Bench, Power Rack and Plate Loaded Leg Press. We have 12 Cybex circuit training machines available. Additional free weights are available in the room.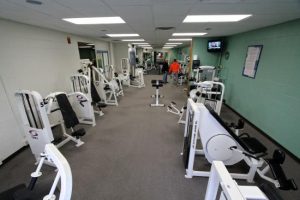 The Golf Simulator
Practice your swing in the comfort of the Wiggins Center. Some courses you can choose from:
The Farms Golf Club, Dyersburg, Tennessee
St. Andrew's Old Golf Course, St. Andrew's, UK
Real Club Valderrama, Sotogrande, Spain
Pebble Beach, Pebble Beach, California
YMCA members can play unlimited rounds for $30.00/month paid by autodraft or $25.00/hour.
Non-members can play unlimited rounds for $50.00/month paid by autodraft or $35.00/hour.
HydroMassage Room
HydroMassage® provides temporary relief of minor aches and pains, relieves muscle soreness, stiffness and tension, increases circulation in local areas where massaged, reduces stress and anxiety, enhances the feeling of well-being, and promotes deep relaxation.
Membership Add-on
Youth: $5/month
Young Adult & Adult: $10/month
Family: $20/month
One-Parent Family: $15/month
Senior: $10/month
Senior Couple: $15/month
Member Pay as you go: $3/use
Non-Member Usage: $12/day
Cardio Center
The Cardio Center houses all of our cardiovascular equipment.
5 Cybex Total Body Arc Trainers
2 Cybex Lower Body Arc Trainers
2 Concept 2 Rowers
2 Cybex recumbent bikes
3 Cybex upright bikes
2 Cybex Step machines
5 Cybex Treadmills