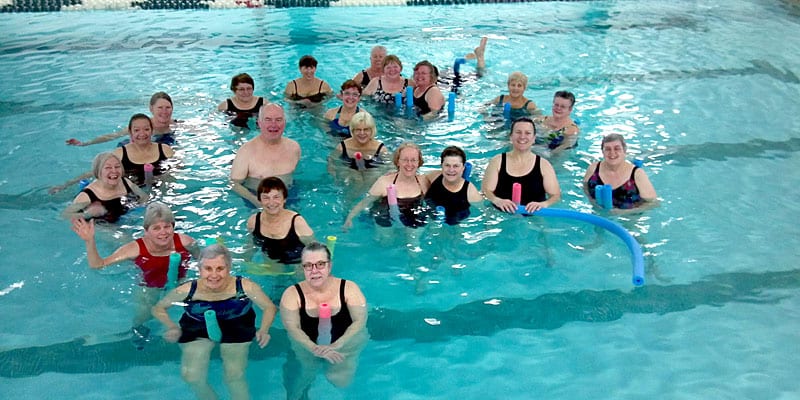 Our aquatics programs are offered at the Wiggins Center in Ellsworth and the Lawrence Center in Blue Hill. 
For pricing and schedules, download our Program Guide. 
Registration for adult aquatics classes happens on a session by session basis. Classes are free with membership or guests can pay the daily user fee. You can register for classes here.
What to expect when you arrive: When you arrive, you will need to check in at the front desk. Locker rooms are available for use both before and after your class, but we recommend arriving in suits ready to swim.  Masks are required and are to be worn at all times, including in the locker rooms and on the pool deck. They may be removed while in the pool. 

After Class: When your class is over you may use the locker rooms rinse off and to change out of your wet suit. Masks must be worn at all times except while using the shower. Please respect other people's space and stay socially distanced when possible.
Aqua Fit        
This is a terrific class for the beginner, intermediate & advanced. Primarily a shallow water class with occasional ventures to the deep end. 
Fee: Free for members / Daily fee for non-members
Location: Wiggins Center & Lawrence Center
Move and Stretch (Arthritis)
Shallow water class that works on improving flexibility, balance, and range of motion.
Fee: Free for members / Daily fee for non-members
Location: Wiggins Center & Lawrence Center
Wet Steppin'             
Fun, fast & frenetic (in a good way)! This class will get you moving with a variety of moves in shallow & deeper water.
Fee: Free for members / Daily fee for non-members
Location: Wiggins Center
Masters Swimming
For novice and experienced swimmers.  Workouts are tailored so all levels can train together. Stroke development, speed and endurance are all part of each workout.
Fee: Free for members / Daily fee for non-members
Location: Wiggins Center & Lawrence Center
Adult Swim Lessons
Lessons are designed to meet the needs of each individual. Small class sizes ensure that whether you are trying to overcome fears or improve technique, you can work towards your goals.
Fee: Free for members / Daily fee for non-members
Location: Wiggins Center & Lawrence Center
Kayaking Skills Practice
All ages- 2hr. This block of time it for kayakers wanting to practice their skills in the off season. The whole pool is available for rolling and other vital skills. Bring your own kayak and personal gear, we provide the pool space. 
Fee: Members: $15.00 / Non-Members: $20.00
Location: Lawrence Center
ARC Lifeguard Training
Train to save, gain the skills and knowledge to become a lifeguard. This class includes Lifeguard, CPR-FPR, First Aid and AED training to guard pools. Participants must be 15 years old before the end of the class, be able to swim 300yd continuously, retrieve a 10 lb brick off the bottom in deep water and must attend all session times.
Fee: Members: $250 / Non-members: $300
Location: Wiggins Center & Lawrence Center