James Russell Wiggins Center – Ellsworth YMCA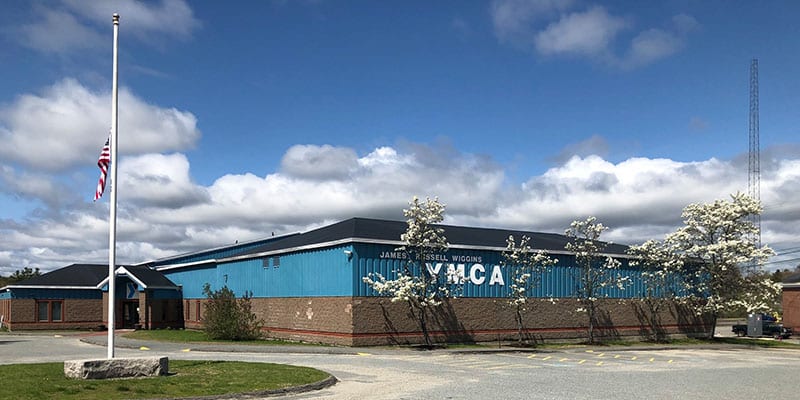 FACILITY FEATURES
The Wiggins Center in Ellsworth features a gym where youth sports and fitness classes take place, a pool, a room with HydroMassage® chairs, a golf simulator, a fitness rooms, weight training room, and locker rooms.
Directions
Wiggins Center Gym
Our gym features a basketball court, but depending on the season and the time of day, you will find more than just basketball games going on. From kettleball workouts to yoga and volleyball to pickleball, our gym is where it's going on.
See Gym schedule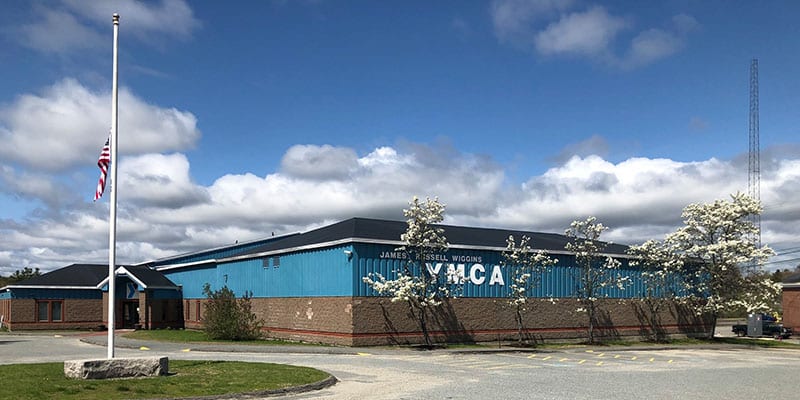 Wiggins Center Pool
The Wiggins Center pool has 6 lanes and is 25 yards long. It is 3.5 feet deep in the shallow end and slopes down to 6 feet at the deep end with stairs and a chair lift in the shallow end. The water is kept between 82—83 degrees. We always have a lifeguard on duty. Learn more about our pool.
We have many classes taking places throughout the day, lap swim and open swim times. Our pool is available to rent for group activities or special occasions. Learn more about renting our pool.
See pool schedule
HydroMassage

®
Our HydroMassage® chairs provide temporary relief of minor aches and pains, relieve muscle soreness, stiffness and tension, increase circulation in areas where massaged, reduce stress and anxiety, enhance the feeling of well-being, and promotes deep relaxation. HydroMassage®  is available as a membership add on or Pay-As-You-Go for members and nonmembers.
See HydroMassage® rates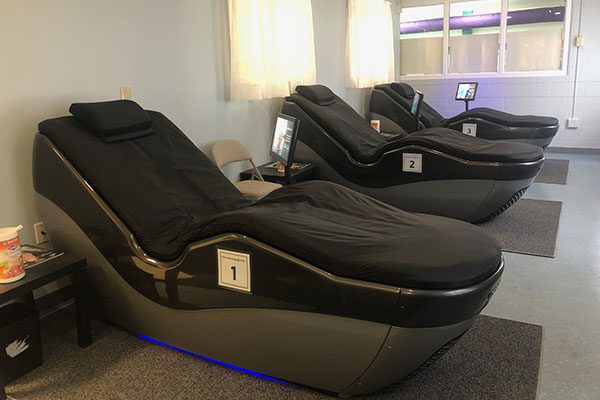 Golf Simulator
Choose your course and practice your swing in the comfort of the Wiggins Center.
YMCA members can play unlimited rounds for $30.00/month paid by autodraft or $25.00/hour. Non-members can play unlimited rounds for $50.00/month paid by autodraft or $35.00/hour.
To learn more or reserve your tee time, stop by the front desk at the Wiggins Center or call 207-667-3086.
Fitness Rooms
Our fitness rooms include the Cardio Center, where all of our our cardiovascular equipment is used and another room devoted to group cycling classes and TRX classes.
The Barrett Fitness Room
This room is dedicated to strength training equipment and free weights. Equipment includes a Pec Deck, Lateral Raise Machine, Olympic Incline Bench, Power Rack and Plate Loaded Leg Press. We have 12 Cybex circuit training machines available. Additional free weights are available in the room.