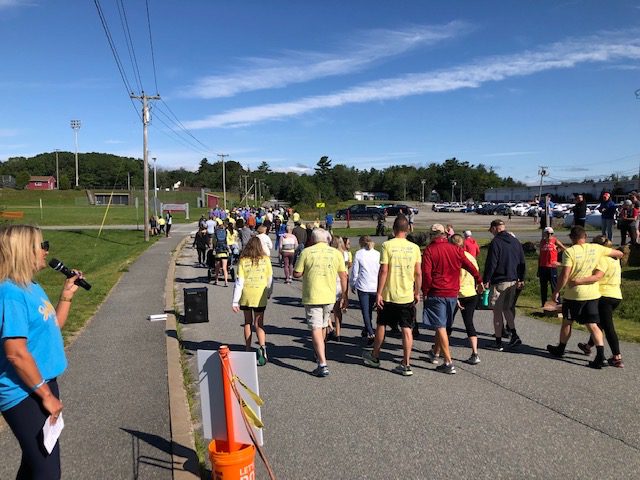 The 2nd edition of the Kinsley Ray 5k was contested on Saturday July 31 at the Ellsworth YMCA. There were 320 walkers and runners who completed the 3.1 mile course along the Shore Road in memory of Kinsley Ray Archer. Fastest times were recorded by Beckett Markosian winning the men's race in a time of 17:48.7 and Brianna Harriman winning the women's race in a time of 22:09.0.
The podium spots were rounded out by Ethan Archer and Rob Shea on the men's side and Kristine Guardaldo and Lisa Kinsbury on the women's side.
Local race director Gary Allen started the run and paid respects to local cross country coach and race official Ryan King who passed away suddenly last week. Pastor Bob Maddocks blessed the event and Elizabeth Alteri sang the national anthem to get the morning started.
The Y was astounded by the outpouring of community support for this race and support for the Leukemia & Lymphoma Society of New England.
Race sponsors included Darling's Auto Group, Ellsworth Jewelers, Gaftek, Acadia Air, Penobscot Financial Advisors and Hilights Salon. Additional support was provided by: Napa Auto Parts, Crossfit Breakwater, Legends Athletics, Tiny Tykes Daycare, Hancock County Sheriff's Office, Hairbenders, Bar Harbor Bank & Trust, Cleary Law Offices, Acadia Law, Amy's Salon, Stone Park Properties, Acadia Realty, E.L. Shea, Pine Tree Rentals and Maine Vacationland Rentals.
Thank you also to In Bloom Spa and Wicked Munchies for providing gift certificates for the winners.
The next road race for the Down East Family YMCA will be the Wilbur Run at the Blue Hill Fairgrounds on Saturday September 3rd and The Roger Willey 5k, 10k at the Ellsworth YMCA Saturday September 25th. Sign up at your local YMCA branch or on runreg.com.