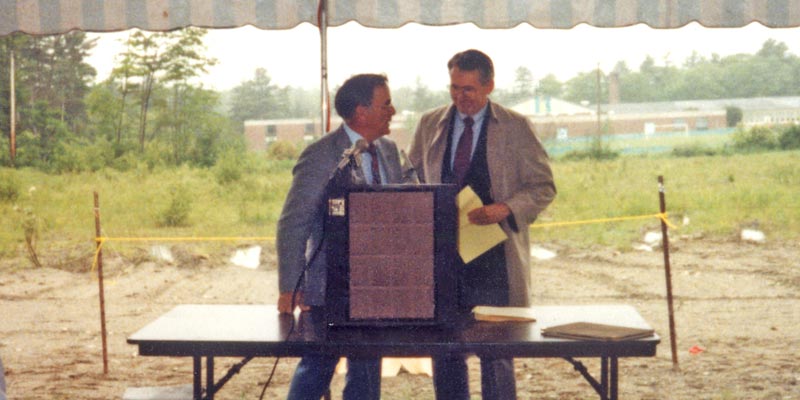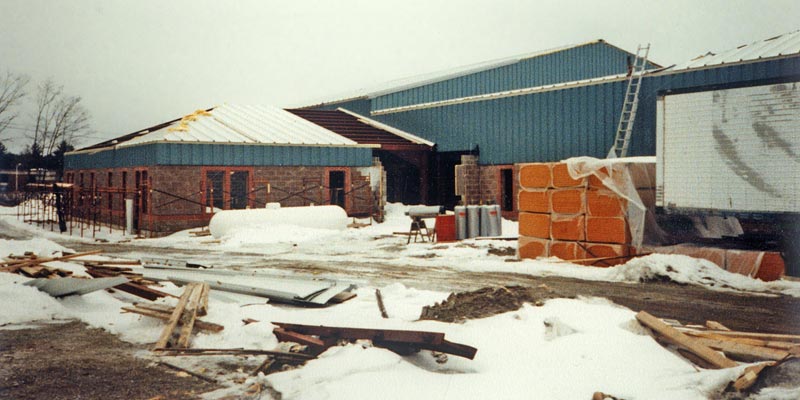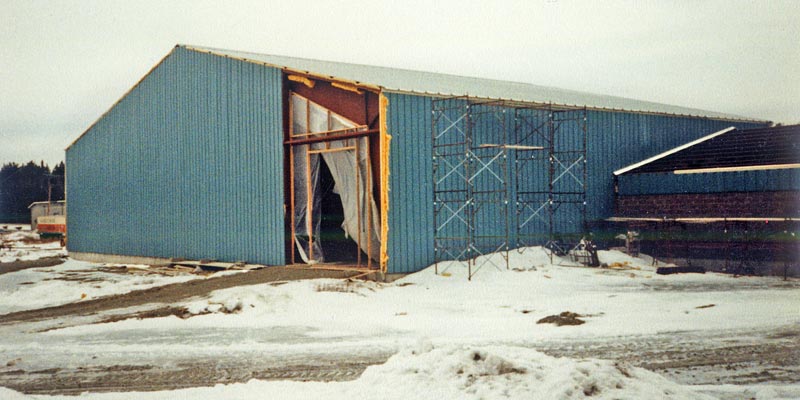 Some 300 people turned out on Sept. 23, 1990, for the dedication of Ellsworth's brand new YMCA.
– Images courtesy of The Ellsworth American, September 22, 2011 edition, Sec. I, Page 5, Ellsworth YMCA Celebrates 50 Years

The following is a timeline of our YMCA, from 1961 to present.
• YMCA first organized in the Fall of 1961 as East Central District YMCA
• Charles Nelmes hired as first Executive Secretary
• Eighteen men & women composed the first Ellsworth YMCA Committee
• Swim Program started by Stuart Taylor in 1966
• YMCA moved from the Katsiaficas office to 72 Main Street in 1968
• Charles Nelmes resigns as Executive Secretary after 7 years in 1968
• 1968 E. Brice McEldowney Hired as second Executive Secretary
• In 1968, the Ellsworth City Council contributes $1,500 to the YMCA
• YMCA office moves from 72 Main Street to " Old school house on Bridge Hill" in 1970
• Day Camp First Started in 1970 at Flanders Pond in Sullivan
• In 1972, Board starts long range plans for a facility
• In 1973, Board postpones further study of facility because of hospital capital campaign
• In 1974, Driver Ed classes begin in the Y with Bair's Auto & Cycle School of Brewer
• In 1975, Board again studies facility potential. A site at the White Birches Golf Course is proposed. Cost considered too high. A site near Ellsworth High School is proposed, no action taken
• Brice McEldowney retires on April 15, 1983 after 15 years with this YMCA and a 31 year career of service
• 1983 Sheldon Booze hired as new Executive Director
• Name of the "Y" changes to Down East District YMCA in 1983 to better represent the service area
• In 1983, the Ellsworth City Council contributes $5,000 to the YMCA
• In the fall of 1983, YMCA moves its office from atop of Bridge Hill to 75 Main Street, above Hancock Travel
• In 1984 the city council of Ellsworth provides $18,000 in financial support and the first full time Administrative Assistant was hired
• January 1, 1986, YMCA separates from Maine State YMCA and becomes autonomous. New Name: Down East Family YMCA.
• In 1986, 2nd day camp program organized with Sullivan Recreation Committee
• City funding increased to $25,000 due to summer baseball programs becoming part of YMCA
• In 1988, work started on capital campaign for new facility
• In June 1989, facility construction starts
• In September of 1990, new facility opens on Rt. 1A at its present site
• In April 1994, Jon Wood hired as fourth Executive Director
• In October 1994, planning begins for second capital campaign
• In 1995, the 2nd capital campaign was started with Cooper Friend and Peg Champlain as Co-Chairs $600,000 was pledged/raised
• In June 1995, the building was dedicated to James Russell Wiggins
• In April 1997, Doug Heyer was hired as the fifth Executive Director
• In September 1997, the fitness room was graciously redesigned with new equipment and dedicated to Catherine Barrett
• In October 1998 the YMCA was pleased to announce the hiring of Peter Farragher as the sixth Executive Director
• In December 1998, the concept of a Community Center was introduced, with plans for completion in 1999.
• 2001 YMCA purchases the Norwood Property next door.
• 2002 YMCA opens a Community Ice Rink
• 2003 YMCA opens New After-school Building & a Community Skate Park
• 2004 YMCA expands Child Care services to incorporate Infants – Grade 5.
• 2008 YMCA leases property on Webb Pond for the YMCA Summer Camp. Camp property was Camp Peregrine and the YMCA called their camp Camp Discovery.
• September 2008, YMCA closes afterschool center and relocates to Maine Coast Baptist Church.
• June 16, 2009 the YMCA purchased the 50 Acres on Webb Pond for summer camp and started a Capital Campaign for Camp.
• 2009 YMCA went into a Purchase and Sale for the property on Webb Pond from Randy & Patricia Moseley.
• Capital Campaign Committee was established: Cooper Friend & Alan Baker – Co-Chairmen, Rebecca Sargent, Patrick Jordan, Edward Hennesey, Joseph Murphy, Stephen Fay & Christina Maguire-Harding.
• Sept. 2009 – YMCA relocated the child care & Afterschool programs to the recently vacated General Bryant E. Moore School. YMCA leased a portion of the center to Faith in Action (changed to Friends in Action in 2012) in order to develop a Senior Center for Ellsworth.
• June 2011 – YMCA receives large gift to eliminate long term debt and renovate facility. Renovations are completed in 3 months.
• January 1, 2012, the YMCA opened a satellite fitness facility behind Tradewinds Market in Blue Hill. This site was provided due the generosity of Chuck & Belinda Lawrence.
• January 1, 2013, the Blue Hill YMCA, a Branch of the Down East Family YMCA opens with a newly renovated Fitness Center and Child Care.
• February, 2013 – Ellsworth City Council approves $4.6 million renovation project for the General Bryant E. Moore Community Center.
• July 2013 YMCA child care is relocated to 5 local churches during renovations.
• September 2, 2014, YMCA child care and afterschool programs returns to the newly renovated General Bryant E. Moore Community Center.
• January 1, 2015, The General Bryant E. Moore Community Center is fully operational with Friends in Action operating a Senior Center and the YMCA Early Learning Center providing child care and YMCA managing the facility for the community.
• September 2016, Chuck & Belinda Lawrence announces their plans to build a pool and fitness facility in Blue Hill. He also asked the YMCA to be the manager of the facility. Expected completion date is 2019.
• February 28, 2017, the Down East Family and the Jackson Lab established a partnership to establish a 70+ child care center on Beechland Road. This new additional child care facility is to prepare for the expected expansion of child care needs due to the labs expansion into Ellsworth.
• April 13, 2017, the Town Council of Bucksport agreed to enter into a contract for recreation services with the YMCA. The contract begins on May 1, 2017.
• November 6, 2017 – the YMCA opens the Beechland Road Early Learning Center.